MTS Named Outstanding Public Transit System of the Year!
[
]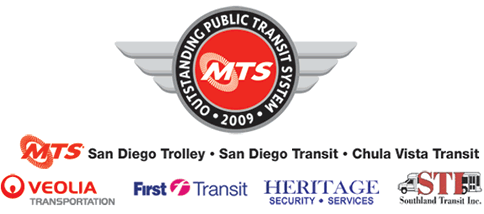 The American Public Transportation Association (APTA) has selected the Metropolitan Transit System as the most Outstanding Transit System of the year for all agencies in North America carrying more than 30 million passengers annually. This is one of the most prestigious awards in the transportation industry.

thumb|left|300px
Presenting the award to MTS on July 30 was APTA President Bill Millar.
"This award means that MTS is the best of the best," Millar said. "Not only that, but they are the best of the largest systems in North America."
APTA judges systems based on more than a dozen quantitative measures over the last three years and MTS posted positive gains in most, including:

These positive results have been achieved in a very difficult operating environment. Revenues have been diminished by the elimination of State
Transit Assistance funding and by reduced consumer spending. About half of MTS revenues depend on sales taxes.
"This award is the result of a lot of hard work on behalf of our employees, by the people who work for our private sector partners and for the community at large who support public transportation," said Paul Jablonski, chief executive officer of MTS. "Our goal is always to maintain the highest level of service even when our funding is getting slashed. I think our performance numbers show that we have become a very efficient and well-run agency."

Other factors also helped MTS earn the award. Over the last three years it has consolidated internal operations, redesigned its bus network of services, renegotiated union contracts, and consolidated several of its bus service contracts. These efforts have saved the agency millions of dollars and allowed MTS to keep service levels high despite reduced revenues.